Desert Nautilus explores themes of climate change and resilience, and was inspired by a research project looking at paleoclimatology and geological history within the context of the Sahara desert.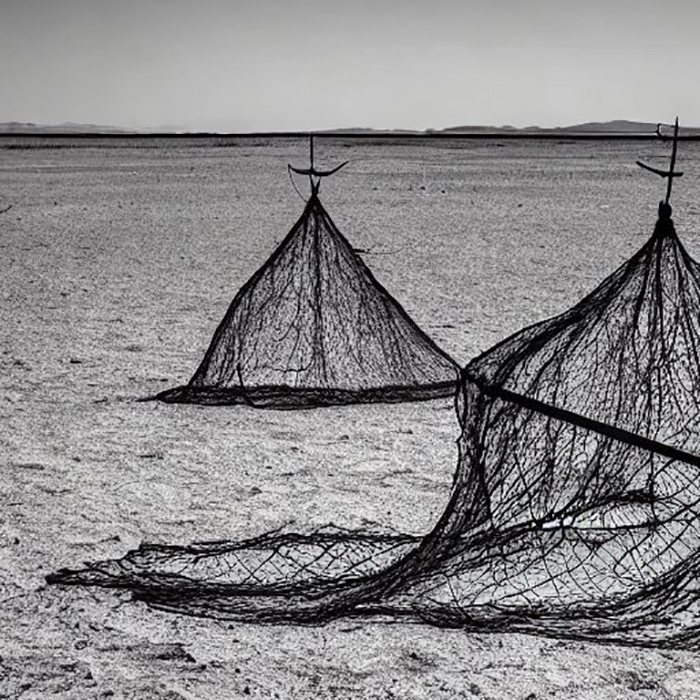 The research focused on how deserts were formed over the millennia and how, at one time, they contained lakes and rivers (now playa, wadi, arroyo, depending on the region). The Sahara was, at various times in the distant past, a green savannah teeming with plants and animals, and contained numerous rivers and lakes. This is evidenced by the discovery of fossilized fish, crocodiles and mollusk shells in the heart of the desert.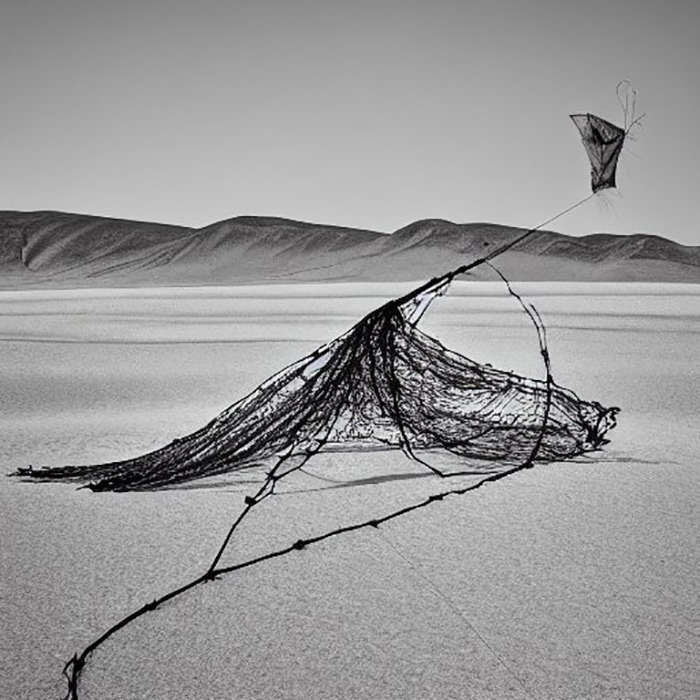 Images created using Stable Diffusion
I'm intrigued by the idea that in a place that is defined by aridity, by a lack of precipitation — the memory of water is ever present. From the formation of dunes and alluvial deposits to pluvial erosion and rock formation. Desert Nautilus is drawn from these ideas and the first iteration looks at creating a series of sculptures made from discarded fishing nets. They are intended as a reminder of our changing climate and the fragility of our modern lifestyles. 
In early 2023 I started playing around with AI image generators not really expecting to enjoy the process or the images produced. This turned out not to be the case. The following sketches are from my very first project exploring AI generated land art. The images are inspired by my travels in different deserts: the Sahara, Atacama, and the American Southwest.
At first, using the text to image workflow seemed counterintuitive. I found, however, that it allowed me to experiment and discover new, unexpected ways of looking at the subject. The AI didn't always understand the text prompts and my intent and some of the images ended up being uncanny. While this in no way replaces the phenomenological experience of site specific work, it was a good starting point to experiment with ideas.
Images created using Stable Diffusion